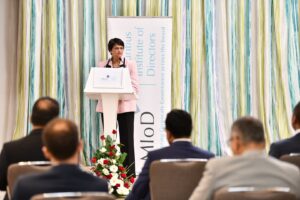 Le Mauritius Institute of Directors, partenaire stratégique dans la mise en œuvre des meilleures pratiques de la bonne gouvernance institutionnelle, s'est associé avec MUA et a organisé une table ronde dédiée au secteur financier, ce matin qui avait pour thème « Atteignons-nous le bon équilibre en matière de conformité, de risque et d'exigences sociales dans l'ère post-covid ? »
Face aux incertitudes liées à la crise sanitaire, les établissements financiers doivent être exemplaires, en termes d'intégrité avec de fortes attentes en matière de transparence vis-à-vis des investisseurs et toutes les parties prenantes. Cette table ronde a été l'occasion pour
les professionnels du métier, des secteurs privés et publics d'échanger sur la bonne gouvernance en entreprise dans le secteur financier, qui est un processus évolutif et qui assure la croissance économique de Maurice.
Dhanesswurnath Thakoor Chief Executive de la FSC Mauritius, Sadhna Sewraj-Gopal Second Deputy de la Banque de Maurice, Daniel Essoo, CEO de la Mauritius Bankers Association Limited,  Vasish Ramkhalawon Secretary General de l'Insurers Association of Mauritius, Samad Jhummun, CEO de Mauritius Finance et Saurav Chatterjee, CEO de Care Edge Ratings Africa ont par la suite animé une table ronde sous l'oeil avisé de Sheila Ujoodha, Chief Executive Officer du MIoD.