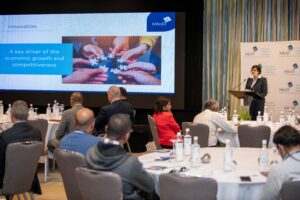 Le Mauritius Institute of Directors, partenaire stratégique dans la mise en œuvre des meilleures pratiques de bonne gouvernance en entreprise, s'est associé à Rogers Capital, pour une journée entièrement dédiée à l'innovation numérique à travers un évènement d'envergure réunissant les chefs d'entreprises des secteurs privé et public.
Plusieurs ateliers ont été organisés lors de cette journée, des témoignages d'entreprises à l'échelle nationale et internationale ont partagés leurs retours d'expériences, ainsi que les facteurs de réussite, les appuis et les freins qu'ils ont rencontrés pour mener à bien ces démarches. Les 18 conférenciers venaient de plusieurs secteurs d'activités, piliers de l'économie Mauricienne, notamment :
• Tim Vasko, Fondateur et CEO de BlockCerts
• Avinash Nemchand, Assistant Manager – Enforcement de la FSC
• Denis Moreau, Head-Digital Banking Innovation, Projects chez CIEL Finance
• Hanjali Permalloo, Chief Officer – Operational Excellence chez Rogers Capital
• Axel Lemarchand, Chief Technology Officer du groupe Eclosia
• Pierre de Villier, Territory Manager (SADC) Tenable d'Exclusive Networks
• Professor Theesan Bahorun, PHD, GOSK, Executive Director du Mauritius Research & Innovation Council
• Samir Khare, Group CIO & Digital Officer de First Capital Bank
• Manish Maulloo, Manager – Innovation Network chez CIEL Finance
• Prakash Luchmun, Head of Technology and Digital Advisory chez Rogers Corporate
• Nishetee Gopee, Programme Leader – IT & Emerging Technologies de Polytechnics Mauritius
• Ashiss Soobhug, Head Cybersecurity Advisory chez Rogers Capital
• Sandeep Mohapatra, Director – Digital Transformation and Technology chez Absa Group
• Dwight Hamilton, Group IT Manager chez UBP
Bien encadrées et maîtrisées, les innovations technologiques représentent un atout certain pour les conditions et l'environnement de travail. C'est ainsi que la seconde partie de la journée s'est conclu avec une table ronde avec la participation de plusieurs intervenants
notamment, Kavi Oogarah, Chief People Officer chez Rogers Capital, Vidia Mooneegan, Senior VP & Managing Director chez Ceridian, Dev Hurkoo, Managing Director de Rogers Capital Technology et Sheila Ujoodha agissant comme modératrice. La discussion s'est portée sur des process et des modes de fonctionnement qui ont été impactés par les nouvelles technologies dans le giron professionnel, réinventant ainsi de nouvelles façons de travailler.
Rappelons-le, d'autres collaborations similaires sont prévues au cours de l'année regroupant des acteurs clés de l'économie pour partager leurs expériences sur des thèmes spécifiques et ce, pour mieux servir la communauté des affaires.